Traveling can be incredibly enjoyable, but also stressful. Packing can be one of the most exhausting things in the world, and for that we have created a list of products that you can easily bring with you on your trip. Now you never have to think about having enough luggage space for your clothes.
#1 Lip and cheek stain – Benefit Cosmetics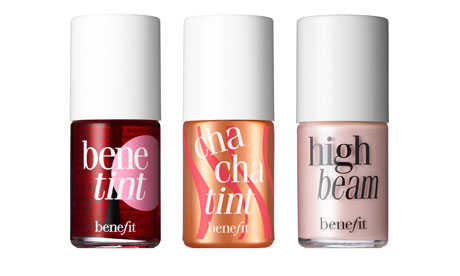 Benefit's lip and cheek stains are a travel essential because it is a two-in-one product. The tint can be used for the cheekbones and lips, to achieve a gorgeous natural glow. The Big Beam highlighter can be used to highlight the parts of your face that you wish, e.g. the steep of the nose, cheekbones and just above the upper lip.
#2 Smudge stick waterproof eyeliner – Stila
Waterproof eyeliner is a must when going on a beach holiday, or a destination where the weather tends to be humid. These eyeliners are easy to apply and comes in a variation of different colors. The vibrant colorful ones are excellent to upgrade your beach makeup look.
#3 Anywhere Essentials Instant Calm Travel Collection – Pai Skincare
The Anywhere essentials instant calm travel collection is a skin care travel kit for travelers with sensitive skin and redness prone complexions. Our skin can easily be affected when traveling, due to the change in weather, which is why this kit is packed with vitamins, minerals and antioxidants to cleanse, hydrate and soothe the skin without irritation.
#4 Dirty Girl Detoxifying Mudd Masque – Pur Minerals
Are you going to a destination with humid weather, and are afraid of breaking out when sweating like crazy? Do not fear, because a detoxifying mud mask is the solution. This face mask cleanses and unclogs pores to promote a clearer and more glowy complexion. It is a best-seller filled with minerals that will eliminate impurities like nothing else.
#5 Volumizing dry shampoo – Macadamia Natural Oil
When traveling from flight to flight or from meeting to meeting, you do not always have time for big hair conditioning or mask while showering. That is why a dry shampoo is a good idea to bring along for days of traveling where you know you will have a busy schedule. The Macadamia natural oil volumizing dry shampoo is not only a great dry shampoo, it also contains macadamia oil to nourish your hair.
#6 Bumble and bumble Surf Travel Set
Going on a beach holiday? This set is perfect for achieving that without having to bring along tons of big-sized products. The set consists of a shampoo, conditioner and spray that will give you a beautiful sea breezy texture with a scent of the ocean.
#7 Dream on detox 5 night programme 5 pair – Toxic Twins

If you are going on a relaxing beach holiday far away from work, why not do a detox while you are away? This detox eliminates toxins circulating in the bloodstream, and all while you are sleeping. All you do is sticking the small bags (consisting of minerals and ingredients like Bamboo Vinegar) under your feet, and it will leave you with more energy and focus and promote restful sleep and metabolism to eliminate the bloat of Thai food. It sounds too good to be true, but if it works, I would call it pure magic under your feet.
#8 Cucumber detox de-puffing eye cubes 6 pieces – Peter Thomas Roth
Long flights can be exhausting, and so can jetlag. These de-puffing eye cubes are perfect when you feel like you have gotten no sleep at all. There is a mix of amazing ingredients in this, e.g. cucumber, aloe vera, green tea and chamomile, that will detoxify, nourish and brighten areas around the eyes. This equals, no more dark circles or puffy eyes!
#9 Blotting paper 100 pieces – Paul & Joe
Blotting paper is a must when going somewhere hot and humid, especially if you are cursed with oily skin in the first place (double trouble). You can get small packs like this with tons of blotting papers to remove any excess oil on your face.
#10 Melted liquified long wear lipstick – Too Faced
You never again have to worry about your lipstick melting in hot weather again. Too Faced's melted long wear lipsticks are perfect for a vibrant look that will last you all day. Also it is super easy to apply from the tube.
Which country are you traveling to next?
---
Originally written by Juliana Chow.