Let's face it, Sarah Jessica Parker has been one of our best friends for a long period of time. To be exact, from 1998 to 2004 and no matter what, she has left us with a legacy that goes well further the mere duration of one of the most loved TV shows of all time: the one and only Sex & the City!
Carrie, Samantha, Charlotte and Miranda taught us lessons about love, friendship, life and even shopping that we cannot forget and that still now help us to get through our chaotic lives.
You don't need to share every belief with your bestie
In order to be best friends, you don't need to share every single belief and agree on everything. You are much more of a great friend if you point out to your gf what she is doing wrong and speak out your mind. Friends will appreciate your honesty and know that whatever you say is just for their own good.
It is ok to be different
It is ok to have short hair and to wear skinny jeans all the time. It is ok to do and wear whatever you like as long as that makes you feel comfortable with yourself.
Sex without love is good but sex with love is even better
Carrie & Co. showed us how wrong it is to think about sex as a forbidden or nasty topic. They taught us that it is completely fine to open up about it and they also proved the point that sex is (almost) always great!
Your friends are often the true loves of your life
It is stupid to moan over a guy or to think that you will never be happy or know what love is just because you don't have a boyfriend. Most of the time, our real anchors and saviours are our best friends and we should never allow a guy to come in the middle of such strong bonds.
He doesn't have to be perfect
He just needs to be perfect for you to be the right one. Don't look out too much for the Prince Charming or you might miss out on the opportunity to find the right guy for you. And for the record, he usually never comes riding a white horse.
It's ok to be a Samantha sometimes
Sometimes you need to put yourself first and think what would really make you happy and pursue it at any costs. And sometimes it is just fine to let yourself go and act like only Samantha Jones would act.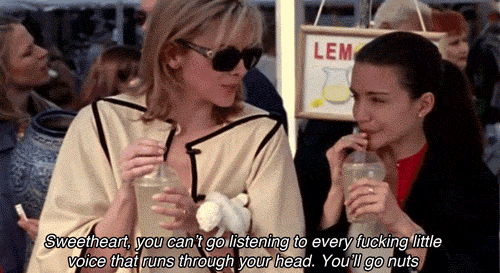 You will never be entirely satisfied
There will always be something missing. Once you fulfil a dream you will immediately start thinking about what else more could make you truly happy. And after all isn't life a constant chase?

Never settle for anything less than your expectations
Carrie & Co. taught us that we must not give up on our dreams and as such, we must not settle unless it is really worth it.
It is ok to be alone
Even though a lot of the episodes involve Mr Big and how Carrie had to cope with all the ups and downs of their relationship, she also showed us that you don't really need a man to consider yourself a fulfilled woman. If he is not the right one you should find the strength to pack your stuff and leave. You are independent enough to take control of your life and start over again, even if you need to be alone to do so. You don't need a man to realise if you are fulfilled or not.
Sometimes we love shoes more than people
Well, it doesn't really come as a surprise! Sometimes we do love our shoe collection more than anything else. But most importantly, Sex and The City paced the way for all the shoe addicts everywhere, finding a unique and totally glam and funny way to denounce a serious problem that might be taken for granted or underestimated.