We heart chick flicks! Perfect for a lazy Sunday, girls night or after a long day of work. Our list of favorites is endless and we love finding new chick flicks to watch.
There are movies for all your moods, for when you are alone, with friends or the boyfriend.
So whatever mood you are currently in, sit back, relax and pick one of these movies to make a happy ending of your Tuesday.
1. BREAKFAST AT TIFFANY'S
Old but gold! The perfect movie for a rainy lazy Sunday when you have nowhere else to be but your bed and maybe with the boyfriend!
The movie that made Audrey Hepburn the timeless style icon that she is. This movie is full of funny punchlines of the beautiful Dutch, British actress.
"A girl can't read that sort of thing without her lipstick."
This funny East-Side story about the emotionally immature Holly Golightly, will give you the perfect Sunday feeling.
---
2. SEX AND THE CITY 1+2
Every girl can identify with at least one of these fabulous women. SATC is the ultimate therapy after a hard day at work or for a night with your girl- and gay friends.
Samantha, Carrie, Charlotte and Miranda will bring you an evening full of funny quotes, fabulous outfits, amazing shoes and life advice.
Prepare the cocktails, put on your fashionable outfit and enjoy a night with these amazing women.
---
3. MEAN GIRLS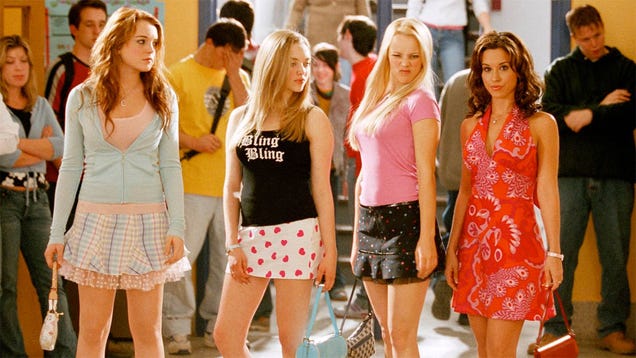 The movie that absolutely can not be missed and is probably the most quoted chick flick ever! Mean Girls is hilarious, funny and gives a whole new meaning to 'being from Africa'. Perfect for a girls night, with face masks, nail-polish, popcorn and boy-talk.
---
4. SISTERHOOD OF THE TRAVELLING PANTS
Girls night? This is the perfect 'one movie fits all' chick flick. A group of girls find a pair of jeans that 'magically' fits them all. As they all have different plans during the summer they decide to take turn with the jeans.
Although they are apart they all grow closer together as friends. This movie is good for a 'feel good' night with your friends.
---
5. THE NOTEBOOK
Feeling a tearjerker? The Notebook is the beautiful love story that will make you laugh, cry and wish that you have a Noah for yourself!
---
6. SHE'S THE MAN
Main reason to watch this chick flick: Channing Tatum! This romantic comedy is bound to lighten up whatever mood you are in or be the perfect ending of your day. A clumsy pretty girl, good-looking boys, funny scenes and an Amanda Bynes exactly how we would like to see her.
---
7. PITCH PERFECT
Feeling a comedy night full of A capella music? Pitch Perfect is for sure the feel good, sing-a-long chick flick!
The movie to watch when you and your friends feel like singing, dancing and need a little girl-power! Luckily for us Pitch Perfect 2 is on its way, we cannot wait to see these girls, especially the hilarious Rebel Wilson, in action again.
[irp posts="19008″ name="7 Books Books You Need To Read That Are Better Than The Movie Versions"]