Women that have done a lot for society unfortunately receive less credit than reality stars like Kim Kardashian (no offense KK). Although I love wasting my time watching reality stars doing almost nothing on television and sometimes daydream about being part of the Kardashian family (I would absolutely love to hang with Khloe) the only thing this family inspires me to do is to work extra hard to also buy that beautiful pair of Loubs.
The ambition that I receive from this family lasts as long as KKs sextape! I need to read success stories of down to earth career women to get my focus and reality sense back and I absolutely believe that the 'less well known' women that give a lot to society deserve way more credit than they nowadays receive.
In the CGD office we regularly discuss which women inspire us and what we can learn from them. This week we fell in love with 4 different women, who all have a connection with politics on the highest level possible. They are successful, smart and ambitious. Their career stories, drive and passion will give you a motivational boost that will last forever!
1. Neelie Kroes
The lady that does not care which designer she is wearing and gave Microsoft a fine of 497 million euros! Her resume is fabulously long and there is almost nothing in politics that Neelie Kroes did not do. Forbes listed her as number 47 in the list of most powerful women in 2008. She served as European Commissioner of Digital Agenda under the Barosso Commission until she was 72. Her career, passion and perseverance are admirable.
2. Amal Alamuddin Clooney
Lawyer, activist and author, this beautiful woman has it all! As Tina Fey said at the Golden Globes this year:
"Amal is a human rights lawyer who worked on the Enron case, was an adviser to Kofi Annan regarding Syria, and was selected to a three-person U.N. commission investigating rules of war violations in the Gaza Strip."
And this is just a small selection of the work she has done. What we really admire in Amal is how humble she remains in public. This woman is a true inspiration and role-model. With her ambition, drive, passion and of course amazing style she is one of our favorites!
3. Queen Rania al Abdullah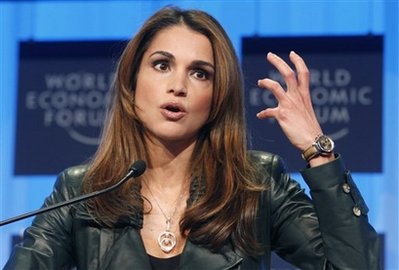 The beautiful and humble Queen of Jordan is the definition of 'Giving back to society'. Her advocacy work is related to youth, education, health, community empowerment and cross cultural dialogue. Queen Rania's NGO, The Jordan River Foundation, supports the less advantaged in Jordan. Next to all her hard work for the community she is also a mother, boss, advocate and the author of The New York Times Bestseller 'The Sandwich Swap' a childeren story about diversity.
"I just wake up and feel like a regular person. At the end of the day you are living your life for the people that you represent. It's an honour and a privilege to have that chance to make a difference – a qualitative difference in people's lives – and it's my responsibility to make the most out of that opportunity." – Queen Rania al Abdullah
4. Michelle Obama
Although she is primarily known as the first lady of the USA, Michelle Obama had a successful career before she even met Barack. In primary and secondary school Michelle belonged to the best of her year, took advanced placement classes and was on the honor roll for four years. Her first study was in Sociology, she graduated Cum Laude and after that she went to Harvard University to study law and worked as a lawyer in a law firm where she later met her husband.
Nowadays she is part of different projects and she aims to help the people in society. The projects that Michelle is involved in are supporting military families, helping children lead healthier lives, and encouraging young people to fulfill their boundless dreams. We love Michelle for her positivity and modesty and believe that she is a true role-model for women all around the world!
Who inspires you? Let us know in a comment or tweet us @CareerGirlDaily
Don't forget to enter our amazing Chanel giveaway!