Are you looking to be more productive on your Sundays?
For us, Sundays are the days where we can really get a head start on the week. But it's also the day that we tend to focus the most on ourselves.
And when most of your week is taken up by work, it's important to take that time you do have for yourself and really take advantage of it.
So, if you want to be more and do more on your day off then check out these refreshing things that will make sure every Sunday is a valuable one.
1. As always, plan for your week ahead
There's nothing worse than being unorganized come Monday morning. For us, there's no better feeling than having your shit together.
So, the first thing we like to do on a Sunday morning is get organized and prepared for the week ahead. It gives us our best chance of success and makes sure we're on track.
And do this task first thing in the morning, don't leave it until Sunday evening, because when it gets to the night time you should be settling down not organizing for tomorrow!
Use the Getting Things Done Planner to plan your meals for the week, which will keep you on track for your health goals, and use it to pencil in some of your todos.
This planner should be your go-to. It will come with you everywhere, will know you inside out and will make sure you get things done.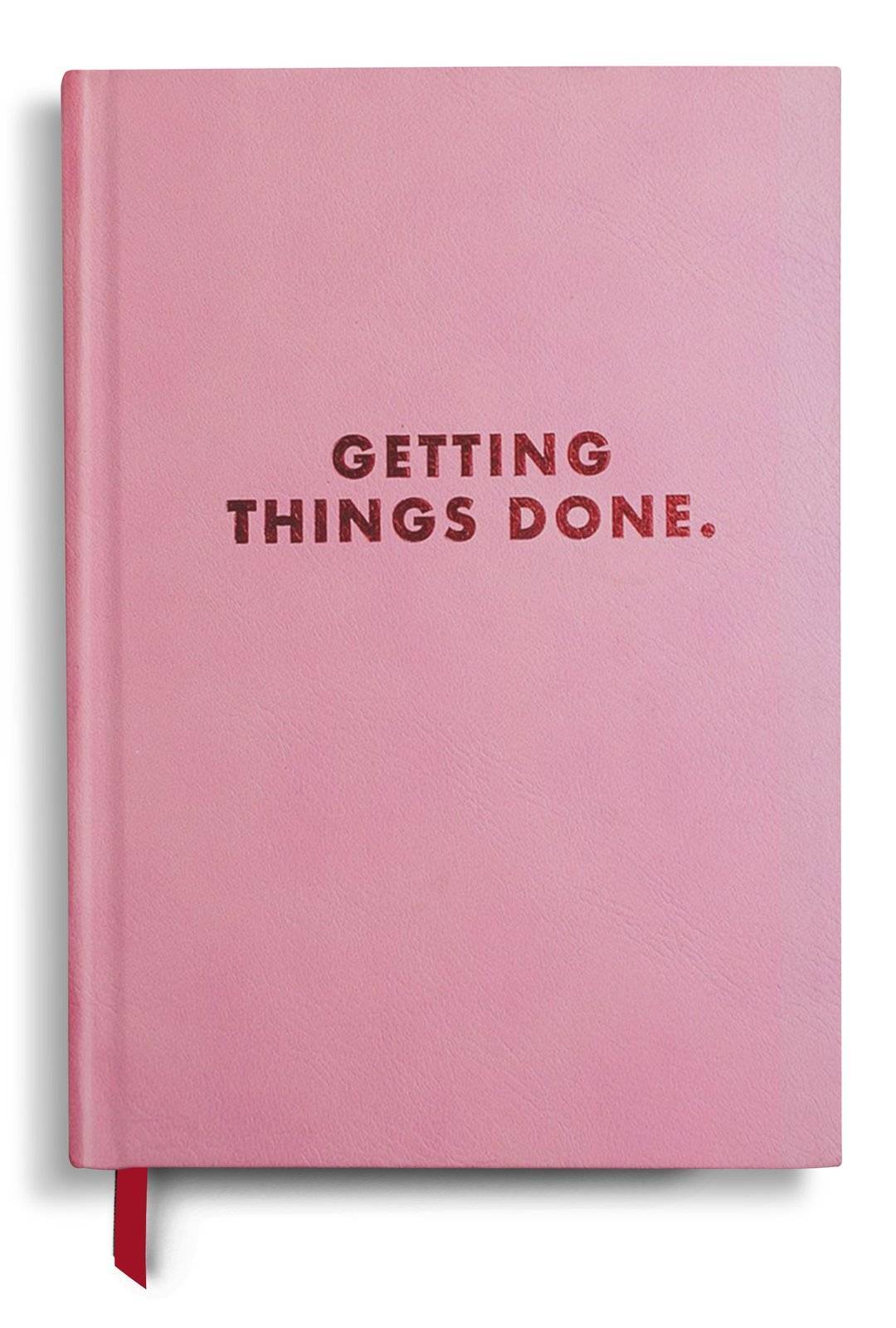 Getting Things Done Planner available here
2. Assess what you really need
Everybody wakes up differently. And we're not telling you to set an alarm and get up as soon as it goes off. Because that doesn't work for everybody and sometimes, it's not even realistic.
So, instead, wake yourself up slowly. Have your alarm go off yes, but when it does ask yourself some important questions:
How do you feel?
Are you hungry?
Do you need an extra hour?
Are you feeling a little negative?
Are you ready to start the day?
All of your answers to these questions will help you determine how you feel, and how you're going to start your day.
If you don't feel ready to start your day, for example, plan to change that. That means you need to do something positive to start your day right (because we all can't wake up on the right side of the bed all the time).
Try making yourself breakfast in bed, getting out in the fresh air, or start with your beauty routine. What you do is up to you, but just make sure you're changing your mood and giving yourself energy.
3. Put the phone down, even if it's just for half an hour!
We cannot stress enough to you that you shouldn't check your phone as soon as you wake up.
We get it, you need to check your phone, check your messages, see what has happened since you were last awake.
But it's not healthy, for example, have you ever woken up with a negative message that puts you in a panic and stresses you out? This sets the tone for the whole day.
It could even be that you've stumbled upon a to-do that needs to get done, which doesn't put you in the best mood. So, the best thing to do is to just stay away from it for your first hour.
And if the temptation is too strong, then just download the app Flipd, it will lock your phone and will make sure you spend that crucial time away from it! Download it here.
4. Refresh yourself with some fresh air
We recommend that the first thing you do in the morning is to go outside.
Just take your morning brew of choice with you and get some fresh air. It really is the best way to start the day and it will put your body in tune for what the day has in store.
Plus, if you really want to focus on being more productive you need to start the day feeling like your best self. And fresh air can really work wonders.
Listen to outside, and just have a few moments of peace before your day kicks off.
5. Solve ALL the messes
Sundays should be your day where you get everything together. It's your chance to organize and restructure your life, which can sometimes get a little messed up with the pressures of the week.
So, that's why this time is crucial for sorting it out for yourself. Plus, it's a great thing to do before the week starts again, making sure you're in the best mood possible.
Clear it all up today. If your house is a mess, clean it. If the clothes in your drawer are all screwed up into balls, tidy it up and fold them. Take a look at every area in your life that needs 'cleaning' and clean it.
It's a really good habit that you should take on, it will keep your life in order and trust us, it will make you feel so good!
6. Reflect and reflect some more
If you haven't already thought about starting a journal, then you seriously should.
Maybe you don't think it's your thing. But when it comes to your own lifestyle journal, it doesn't have to be the same as everybody else.
It's yours. It's a place you can go to and write down your thoughts and leave them there. Even if you spend your time doodling on the pages, it's something you needed to get down on paper.
And journaling has a lot of positive effects. It's really therapeutic and will leave you feeling relaxed, refreshed and generally much happier about life.
Write anything and everything. Even if it's just a page that describes nature. Expel and release.
You can even use your GTD planner for this, it can act as a journal that documents your day-to-life whilst also promoting you to be better and stronger.
7. Create a gratitude list
We think that it's important to point out and focus on where you week went right and what was positive about it.
It's a great thing to document, and if you do this every week, in six months time you'll be able to see how far you've come and had something you can look back on and smile.
On this list include all the things that you were thankful for this week, list all of the positive things that happened to you and even the positive things you did for others. This will also attract positivity into your life in future weeks.
Write down your successes and celebrate them. But to finish, create one big box and write one negative thing that brought you down. And underneath it write something actionable that will teach you how to bounce back from this.
8. Take the time for you
You don't need to escape to Fiji, or even pack a bag to take some time away and relax and recharge.
All you have to do is shut yourself off (not forever) and do something that really works to rejuvenate yourself.
Even if you spend the time pampering yourself, that's everything from exfoliation to plucking your eyebrows!
Figure out the things that make you happy. Go sit in the lounge and sink your teeth into a new book, try a crossword puzzle or even a stroll.
Just don't watch TV – do something that you can't do every other night of the week!
9. Make some time for your passion 
We cannot stress enough how important it is that you never lose sight of your dreams. We get that not everyone works in their dream job, but that doesn't mean you can't find the time to make your dream happen.
Our advice would be to work on your project/your passion as soon as you wake up in the morning because it's when you're actually the most active and full of energy.
Plus you don't want to keep putting off something – how many times have you told yourself you'd do it later?
Don't let yourself down, take advantage – be smart!
10. And… relax!
When everything is done and dusted now you can watch a movie. We all love to do this and it's the perfect way to refresh.
Just don't make your day a movie day, instead, just watch the one. Because you don't want to waste your whole day being a couch potato when in reality you could be doing something more productive and valuable with your time.
So, after you've done the last nine things, then you can finally sit down in your perfect, organized, clean home with your feet up watching one of your 90 favs!
---
GOOD THINGS
…come to those who sign up for our emails