We LOVE Taylor Swift! She is one of our favorite Career Girl music artists and her positivity and inspiring interviews always motivate us.
And this Power Girl is positively back in the spotlight again! In an open letter, called 'To Apple, Love Taylor", that she posted on her Tumblr, she asked if they could revise and change their Payment Policy for artists.
Taylor didn't do this just for herself as she can support herself and her staff fully by doing performances. She did this especially for the less well-known artists that simply cannot afford the free 3-month trail where artists don't get paid, that Apple has.
''I'm sure you are aware that Apple Music will be offering a free 3 month trial to anyone who signs up for the service." Taylor wrote. "I'm not sure you know that Apple Music will not be paying writers, producers, or artists for those three months. I find it to be shocking, disappointing, and completely, unlike this historically progressive and generous company."
We applaud her for this letter and standing up for all artist, no matter how big or small. Apple responded to Taylor's letter and has promised to change their payment policy.
We hear you @taylorswift13 and indie artists. Love, Apple

— Eddy Cue (@cue) 22 juni 2015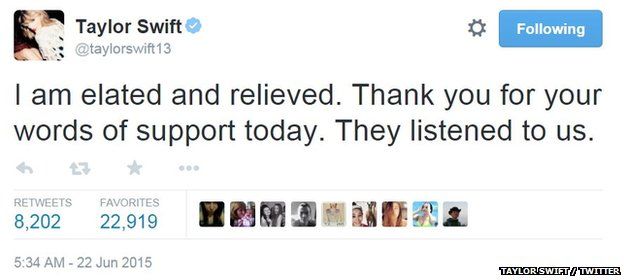 Read the full letter here on Taylor's Tumblr!
Don't forget to follow us on Bloglovin and our awesome 30-DAY Fitness! It is never too late to participate! #CareerGirlChallenge
Featured image: Instagram @TaylorSwift